Lectin Free Mama's 2017 Holiday Gift Guide
Do you know someone who is "everything-free?" As in, gluten free, dairy free, soy free, corn free, peanut free, nightshade free, sugar free, etc…? How about someone who suffers from chronic illness or an autoimmune disorder? Well, this here is the gift guide for that person in your life. The one for your friend or family member who seemingly can't eat anything.
No matter how much you think they'll make an exception for your secret-family-recipe cookies/homemade truffles/peppermint bark/homemade hot cocoa mix, here are three reasons not to gift sweets:
They don't need the additional temptation.
You don't want to waste your amazingly awesome Christmas treats on someone who can't eat them.
You don't want to be the cause of any additional holiday suffering than your dear friend is surely already experiencing from the onslaught of festive, off-limits food.
Sure, you could attempt to make gluten free, nut free, dairy free, soy free, corn free, sugar free, meat free, aluminum free, paraben free, cruelty free, vegan Christmas cookies for them, but yeah, no. A gift card it is! Or, one of these 10 gifts, which are thoughtful and highly useful gifts for the person who is "everything-free."
This post contains affiliate links. Please read my disclosure policy for more info.
This nifty 2-pack of erythritol sweetener includes one granular and one powdered erythritol sweetener. From personal experimentation, it's the best and most delicious 1:1, 0-glycemic sugar replacement there is. Designed to replace white table sugar and powdered sugar, it comes with one bag of each, plus MEASURING SPOONS. Hey-oh!
To complete this baker's bundle gift, you could include some of these colorful, yet classic 5 oz ramekins. Not only do we make all of our own meals, but we also like an occasional homemade dessert. And we love portion control in the form of mug muffins or personal chocolate cakes in these ramekins.

Those with chronic illness or autoimmune disease are generally sensitive to chemicals we call hormone disruptors. These are low-dose, estrogen-like substances that have been linked to negative interference with the endocrine system, which regulates multiple bodily functions. One of those substances is Bisphenol A (BPA), which is found in most plastics. Unfortunately, from initial packaging to storage, our food resides in plastic at nearly every stage of the consumer chain. You can help someone lessen the effects of BPA by gifting them this silicone set of collapsible, everything-safe, BPA-free food storage set.
Another awesome food storage idea is this 4-set bundle of glass meal-prep containers. These are for the person who never goes out for lunch (i.e. anyone with food sensitivities). Each container has a 2-cup compartment, 2 1.5-cup compartments, and a locking lid for portability. BPA-free, everything-safe, and highly convenient.
Cookware is the single most practical gift for someone on a primal or anti-inflammatory diet. I use mine three times a day, at least, and I prefer nonstick because it's a cinch to clean. Ceramic is the safest and most reasonably priced option for nonstick cookware. Studies have linked Teflon and other chemicals used in producing it–mainly, Perfluorooctanoic Acid (PFOA)–to an increased risk of certain tumors of the liver, testicles, mammary glands (breasts), and pancreas.
Plus, look at these ceramic cookware sets. Don't they make you want to whistle a happy tune while you whip up your 20th omelette for the week? Copper, steel, and boring black are so uninspiring next to these. This Happycall set above has the best reviews of any ceramic cookware on Amazon, and is the happiest cookware I've ever seen.
Every household, "everything-free" or not, needs one of these. A cast iron skillet is the most versatile piece of stovetop cookware, because it can also go in the oven at extremely high temperatures. The key is to get someone a pan big enough that she can fry an entire bacon and egg breakfast for 4 in one go, or make a large skillet pizza with deep dish crust (yes, even cauliflower crust). This 17-inch seasoned cast iron pan does away with the "pan handle" that no one dares touch, and instead makes stovetop-to-oven transfer way easier with 2 loop handles.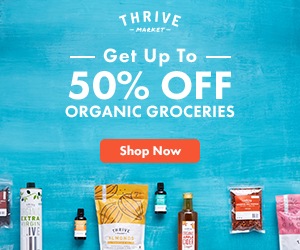 Thrive Market is like the online Costco of organic and specialty food. They sell all of the specialty ingredients that people on an "everything free" diet use in their baking and cooking. Every item is sold at wholesale prices, 25%-50% cheaper than anywhere else. It is, hands down, the most cost-effective way for someone with lots of dietary restrictions to buy specialty groceries. Rebuilding a pantry can be a huge investment. A gift like this could go a long way in helping someone make a fresh start.
I know people who spend the majority of their food budget on olive oil and Balsamic vinegar. Especially for those in ketosis, quality olive oil is a staple–a very expensive staple. And those who fork in the greens and vegetables at least three times a day dream about bursting-with-flavor oils and vinegars. Give your green-eating-machine friend the gift of Sicilian gourmet luxury with an awesome set of crushed lemon-infused olive oil; cold-pressed, December harvest Sicilian olive oil; and Balsamic vinegar aged 8 years in wood. Quality flavor doesn't get any better than this trio right here.
I had to include this, because if I could only name one book that changed my life for the better, this is it. This book is the reason for this blog and the reason I have hope that chronic illness won't rule my life. Written by cardiologist-turned-functional practitioner Dr. Stephen Gundry, the book explains how plants defend themselves from predators (us), and how we can lessen and eliminate the the ill effects of this "chemical warfare."
Studies show that pressure cooking is the most effective method for eliminating lectins and anti-nutrients like phytates, tannins, and trypsin inhibitors from the food we eat. Just three minutes of pressure cooking can improve digestibility of anti-nutrient dense plant foods to 93.9%. What that means for someone with lots of food sensitivities and inflammation issues, is they can occasionally eat more of the foods they love without feeling the ill effects.
This model is the #1 selling pressure cooker, simply because it's amazing (it's the one I use–I'm totally not biased). You can gift someone one of these, and then ask them to give you their slow cooker, rice cooker, sauté pans, and steamer basket. The Instant Pot replaces all of those.
Special Offer
Get $10.00 off of $99.00 or more + plus free shipping at the Instant Pot Online Store with coupon code LECTINFREEMAMA.
Someone who doesn't eat grains makes a lot of homemade tortillas, and, without a tortilla press, it is a frustrating and painstaking process of rolling gluten free dough out between two pieces of parchment paper. You can cut tortilla-making time in 1/2 for someone by gifting that person a tortilla press. Get a heavy-duty cast-iron one. A heavy press makes perfect, round, thin tortillas that are simply not possible with a rolling pin.
To complete the kit, may I suggest a bag of the best grain free flour for making tortillas? I've tried them all, and cassava flour is the only flour that yields soft, chewy, gluten-like tortillas that don't crumble or get crispy when baking. You can also print them out a copy of this awesome recipe for cassava flour tortillas.
For many chronic and autoimmune sufferers, a serving of dark chocolate is our only indulgence. And many of us cling to this allowance like it's a precious valuable. As in, someone breaks into the house, and we yell "Take anything but the dark chocolate! HAVE MERCY." What if I told you that it was possible to give someone nearly a year's supply of dark chocolate? This box comes with 300 individually wrapped 82% artisan dark chocolate tasting squares. You could make it rain dark chocolate for someone, or stuff all the stockings. You could throw in some chocolate for every single gift you give throughout this year.
Give Yourself the Gift of Health
Maybe no one you know eats this healthy or none of these gifts make sense to you (except the chocolate, duh). The first step you can take to improve your stubborn health issues is make more meals at home. Use fresh greens, root and cruciferous veggies, and pastured meats and goat/sheep milk cheeses. Sign up for my FREE weeknight meal planner, which delivers 5 lectin free dinner recipes a week to your inbox. Do it for yourself or for your whole family. See for yourself the benefits of being "everything free." The gift of restored health is better than any gift listed in this guide.